Fuel Delivery Service in Fullerton CA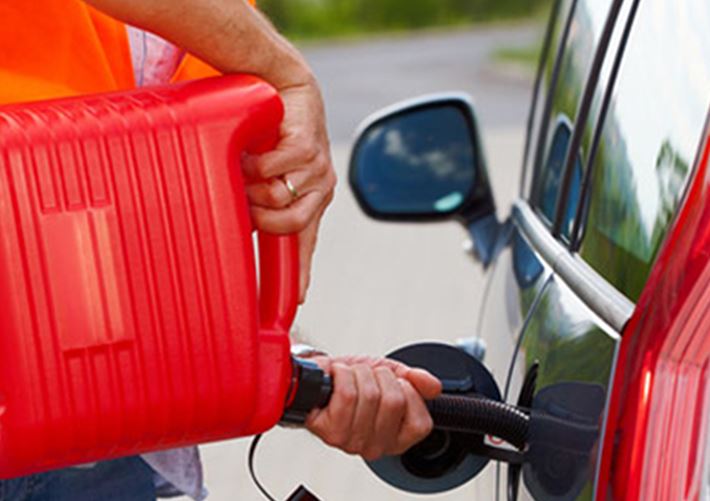 At Fullerton Towing Pros we specialize in all emergency roadside assistance situations, including out of gas refueling and fuel delivery services. If you're low on fuel anywhere in the Orange County area, we'll be there to refuel your vehicle. Our reliable roadside technicians are available 24/7, so you can always reach us during an emergency situation. It can be very easy to lose track of the fuel meter, until the low fuel sign begins blinking. Normally, you would just pull into a local service station, but it can difficult finding one if you're miles away. We'll never let you push your car, since we work around the clock to be by your side. Our technicians know exactly which brand of gas your fuel tank requires. We will get to the scene fast to give your tank the thirst quenching it needs. You're always in good hands when the pros at Fullerton Towing Pros is around!
If your car or vehicle is running low on fuel, you need emergency refueling services right away. As you know, your car can only go so far on a limited amount of gas. You could also risk causing serious damage to your engine as well, which could end up costing you big time. Our mission is to provide you with the emergency roadside assistance you need, when you need it most. Unlike most towing companies, we have techs around 24/7, so you never have to worry when you work with us. You won't have to scratch your head when you see the final statement, since we'll give you a great price in advance. Our customer care team will guide you through each step of the way. Once you leave your details and info, a nearby roadside specialist will be dispatched to your scene ASAP. Whether you need a quick out of fuel service in Fullerton or a long distance towing, we'll be more than happy to lend a hand. Fullerton Towing Pros the friendliest group of professionals you will meet.
Call us today at 714-660-4009 if you need fuel delivery or emergency out of gas refueling services, and need it as soon as possible. We'll get you back on the road and on your way as soon as possible.